Empower Your Organization to Deliver Unforgettable Experiences
How do you deliver exceptional service through personalized voice and digital interactions in a way that aligns with your business goals?

Avaya and Microsoft Azure can help.

Avaya Experience Platform provides end-to-end connectivity, customer journey intelligence, and powerful self-service automation. Combine Avaya's award-winning cloud-based contact center with Azure's scalability, interoperability, and security and you get reduced capital expenditure, accelerated cloud migration, and a platform that stays ahead of evolving market expectations and dynamics.

Deliver always-memorable experiences for customers and employees and maximize your return on investment by transforming the contact center across your enterprise with Avaya Experience Platform on Azure.

Speak to one of our experts today to learn how Avaya Experience Platform on Microsoft Azure can be customized to fit your organizations needs.
To Be a Leader, You Need to Be With Avaya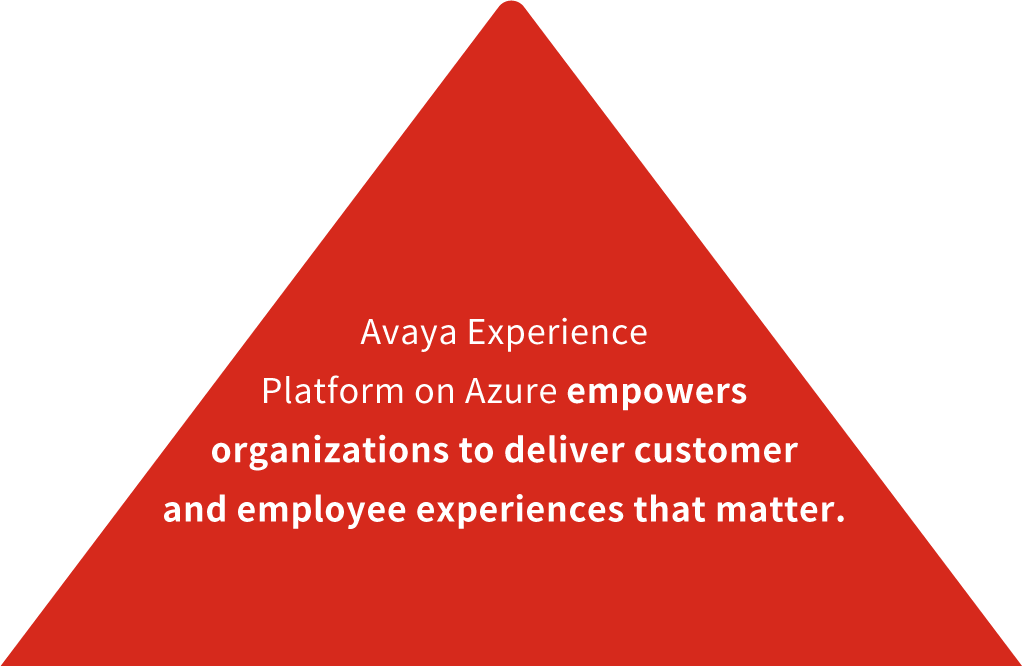 Avaya Experience
Platform on Azure empowers organizations to deliver customer and employee experiences that matter.
100,000 + organizations worldwide trust Avaya for communications they can rely on.

Avaya Experience Platform reimagines the customer experience with end-to-end connectivity, intelligence, and self-service automation, enabling companies to stay ahead of evolving market expectations and dynamics.
Microsoft Azure empowers organizations to achieve more and deliver superior and agile experiences.

With Azure, a cloud ally organizations can trust, turn ideas into outcomes.

Be future-ready. Azure has more data centers, regions, and locations than any other cloud provider.
Hybrid or in the Cloud.
We Meet Our Customers Where They Are.
What makes Avaya different?
Avaya is the only major UC and CC solutions provider to offer on-premises, hybrid and full cloud at enterprise scale. Through a portfolio of products and services designed to meet your specific needs, Avaya innovation is defining the future of work and the digital customer experience.
Innovation Without Disruption: Keep your current solution and build on top of what you have. It's your choice. Innovation happens without disruption, at a speed that fits your business.
Trusted Leader: Over 90,000 customers in 190 countries trust Avaya to deliver experiences that matter — and as the #1 Global leader in Contact Center solutions we've already created millions of experiences.
Delivering the Best Customer Experiences: Avaya solutions better connect customers and employees throughout the entire journey, effortlessly and consistently, through whatever digital or voice channels they choose
If you're ready to take your organization to the next level, contact one of our Avaya experts today.
Additional Resources
Keep Up With Avaya
Avaya Videos
Visit Stream to look at videos by topic or just browse what's hot. Interviews, overviews, case studies, more.
Avaya Blogs
Get to know Avaya through our blogs. Insights on collaboration, customer experience, AI, digital.
Avaya Success Stories
See the inspiring ways companies are using Avaya solutions to change the world of work.